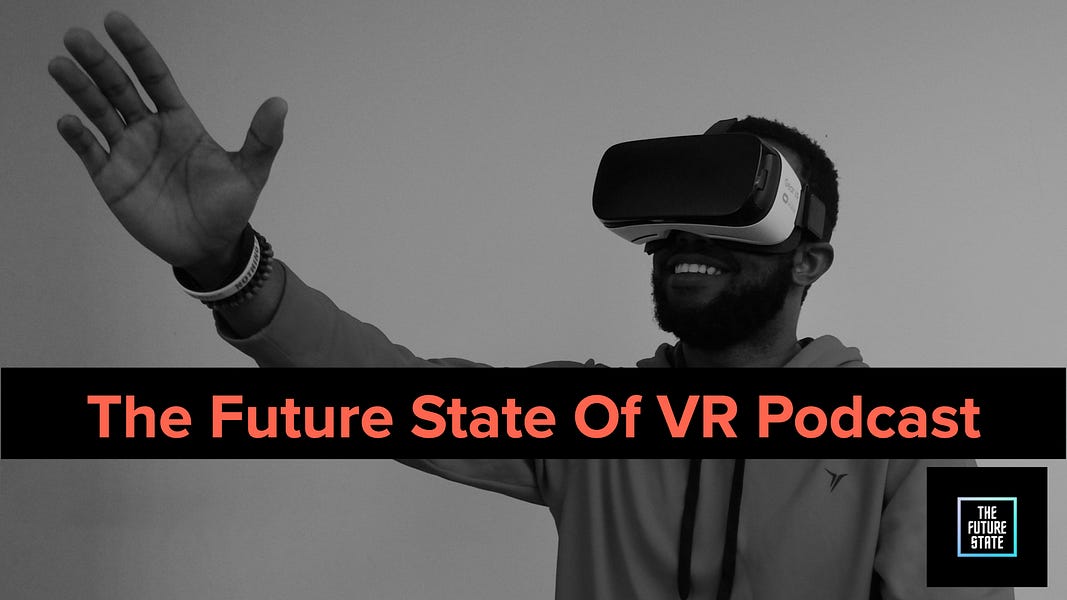 May 24, 2021 • 51M
The Future State Of VR
What VR, AR and MR really are and why they are going to be so important
The Future State Podcast - Modern business & future trends explored by Nick Walter (CEO of XR startup Voritc) & Danny Denhard (founder of company strategy and company culture consultancy www.focus.business and newsletter mustreads.co.uk).
The Future State Of VR 💯
What do you think about when you think of VR? Games, people with clunky headsets on or are you going around the world's best art galleries looking at priceless art?
You've likely seen the videos of people of all ages experiencing a virtual rollercoaster or the kids playing a star wars game and be wowed by it.
This week, we thought it was a great time with all of the recent news and developments into VR and AR that Nick (as the CEO of a XR (that's extended reality, don't worry Nick schools us for the first few minutes 👏) company (check out their work)) dives deep into the "reality" spaces with incredible insights and an extended primer of what VR is, what AR is and why mixed reality is going to see great leaps in the near future.
This week Nick and I discuss the important elements and questions to answer:
The Market size

Facebook's influence within the VR space

Why AR is leading the way (thanks to filters, think Snap filters, Instagram filters)

Pro: How HTC Corporation is going for enterprise space,
Play: Whereas Facebook is going for gaming and of course social media

Why gaming, personal fitness, training and adult (yes that P-word) are popular use cases and likely to continue to drive adoption

The Metaverse (yes it's coming)

Why identity is going to be key

And as ever our future state of VR aka our hot takes
Subscribe On Your Favourite Podcast App:
If you prefer to listen on your podcast player of choice or want to be notified as soon as the episodes go live:
Follow on Apple // Spotify // Google Podcast // Audible // Amazon Music // Deezer // Listen Notes // Mixcloud // PocketCasts // Simplecast // Breaker // YouTube
Or copy and paste this RSS into your podcast player.
---
The Future State Of VR Timeline ⬇️
The full transcript is available here if you are hard of hearing or you like to read along with the podcast
01:15 - Nick dives into what VR, AR and MR is

02:14 - Why wireless heads are important

02:40 - The enterprise vs the gaming / social side

03:49 - Mark Zuckerberg's biggest 10 year roadmap and their most ambitious product release

04:36: AR and the need for glasses in the future

09:43 - Complexities in VR and games

15:21 - Cost breakdown and the future with 5g and 6g

16:34 - Danny talks about his experience with VR and AR and why PC's are so important for gaming and mobiles for AR

20:34 - Why the way our eyes work is so important for VR and the need to build dedicated lenses

21:05 - Danny ask's Nick about 'presence' and why presence is essential for the success of VR

24:45 - Nick discusses Distractions and immersive future

25:38 - Danny's go into his favourite topic, online identity and why you choosing who you are and the identity is key for many in the space

27:40 - Danny provides examples from Charlotte Tilbury, D&G, Animal Crossing & Louis Vuitton

The Louis Vuitton AR pop up example from Paris
28:31 - Nick goes into Roblox and the pitfalls

Roblox Example of Lil Nas X
32:00 - Nick suggested: The mental health angle is going to be important

34:31 - Danny questions if Apple might win the race or will Nintendo slowly get there?

36:31 - Nick talks through Apple vs Facebook vs Microsoft

38:38 - Nick talks through why COVID might just have helped get people used to wearing face coverings

39:34 - Facebook's new innovation (Facebook video of neuro network controls)
Danny's Hot Takes 🔥 🔥 - From 42:09 -
VR is on version 3.0 & it's stagnated every time it had another life

VR needs a lifeline and quick - I don't think working with a chunky headset is it

There will be a number of tech brands that go into mixed

We will see "American" giants like Apple vs Microsoft vs Facebook
vs Asian giants across the VR and AR space

Work

Professional versions and products are the way this hits the masses

I can see it working for very specific companies - very specific use cases where the investment into VR coincides with the success of their products

Social

Facebook is invested as it connects people at a better level

Cheap enough to join

Expensive enough to stay

Gaming

Metaverse needs VR - is this enough to make the metaverse work?
Follow Matthew Ball who is the go-to person on the Metaverse, this pod is brilliant

Could we see a gaming company provide enough investment to make it work?

Something different
Nick's Hot Takes 🔥 🔥 - From 45:39
Personalisation is key to win

Experiences are going to the winner - for the makers and the users

Data and big data being incredibly important for everyday life and the future of VR and AR

Escapism will be a focus and rightly so

Social and gaming will lead the way

The smartphone might be the gift and the curse

Audio is going to the next battleground
Good Examples Of The Future
VR 👀
Concerts In Game 🕹
AR 📲
---
🚨 Remember to help The Future State Podcast to grow to forward this email & copy and paste https://thefuturestatepodcast.substack.com/ on WhatsApp.
Thanks for reading and listening, have a great weekend,
Danny Denhard & Nick Walter
Hit reply or email us if you'd like to discuss this or any of our episodes
Previous The Future State Podcasts Episodes