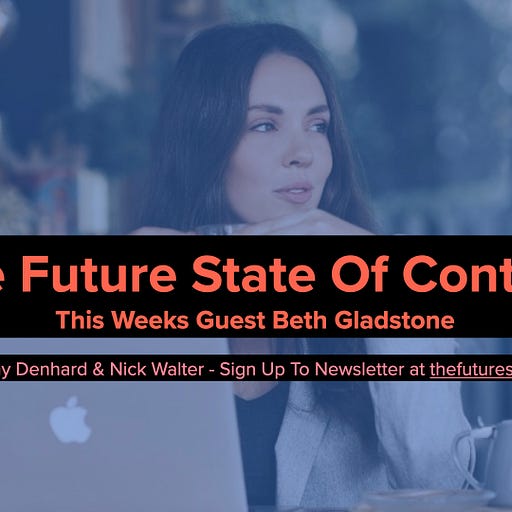 Jan 24 • 57M
The Future State Of Content
Why Content Is King, Queen & Everything In Between
The Future State Podcast - Modern business & future trends explored by Nick Walter (CEO of XR startup Voritc) & Danny Denhard (founder of company strategy and company culture consultancy www.focus.business and newsletter mustreads.co.uk).
The Future State Of Content
Podcast
Welcome back to The Future State of Podcast! The podcast that helps you to think about and shape the future of an industry or vertical that will impact your life in the very near future.
This week Nick and I were joined by the brilliant Beth Gladstone, Beth runs her own micro agency Built By Content, specialising in content strategy. Beth joins us this week and drops some content gems on the current state of content and where the future of content is going.
Why Listen? We discuss everything content-related and go deep into the future state of content, including breaking down:
Channels like TikTok, YouTube Shorts aka micro-content and why they aren't for everyone

Why video is a must for most not all

What we can learn from Paris Hilton (no, not that… for her content approach on YouTube, Hulu etc)

Long-form content is coming back and is having its moment again and why it is going to be imperative

Why automation and SEO will always be essential channels. 
Listen Now On
Or Watch On YouTube 👇
Connect With Beth 👍
---
The Pod Breakdown 🚦
The Questions Beth Tackles:
Where are we at with content today? 

Why content & pairing with strategy is so hard?

How do you manage the process of top-down content creation?

If there are any channels you think are must-haves (and any that just should be avoided)?

Why does everyone rush to new social networks and obsessed with micro-content?

Should it be quality over quantity?

How do you reuse and distribute content most effectively?

What is the future of content?
---
Great Take Away Moments 👏
Beth's Quotables 
Brands need a mission to guide all content (look at Oatly & Olio for brand inspiration) - Watch The Tip

The questions to ask if you are struggling with content: 

Q. What is the aim here? Q. Why do you want to do that? Q. Does that map back to the overall company goals?  - Watch The Tip

Vanity metrics seem great but don't get obsessed by them and what they need
- Watch The Tip 
Danny's Quotables  
Make art not content - make art that is not lost in social feeds - Watch The Tip

E I E Framework: Educate, Inspire and Entertain. The core pillars that people should build content around - Watch The Tip
Nick's Quotables
"the normal kind of VR production for example, is like producing a video game. Or a short film or something like that. It's very, very labor intensive, very expensive. You're talking 50,000 upwards to create a one-off VR experience that doesn't really live on. You know, it's an experience you have and once you've had it, once you're very unlikely to return to it, unless it's significant"
- Watch The Tip 
---
The Future State Of Content Predictions 🔮
Beth's 
Longer form content 

Content automation

Mini docuseries for B2C brands (B2B brands have led the way for years)

Programmatic SEO

More experience-based content - drive multi-touch content
Nick's 
AR & VR content creation tools 

A lot more interactive content that we will be engaged with and seeking out 

Content that drives the physical not just the digital 
Danny's 
Experiences

Creator editor role

Livestream will come and go for most

Live debate — duet remixing

CCTV style content

Make Art Not Content!

Search vs discovery vs paywall 
Jump To The Prediciton Section Of The Future State Of Content Podcast ⬇️
---
Thanks for listening today, if you would like to chat to Nick or me, happily hit reply or reach out on LinkedIn.
Email Us // Connect With Nick // Connect With me
Have a great week and thanks again,
Danny