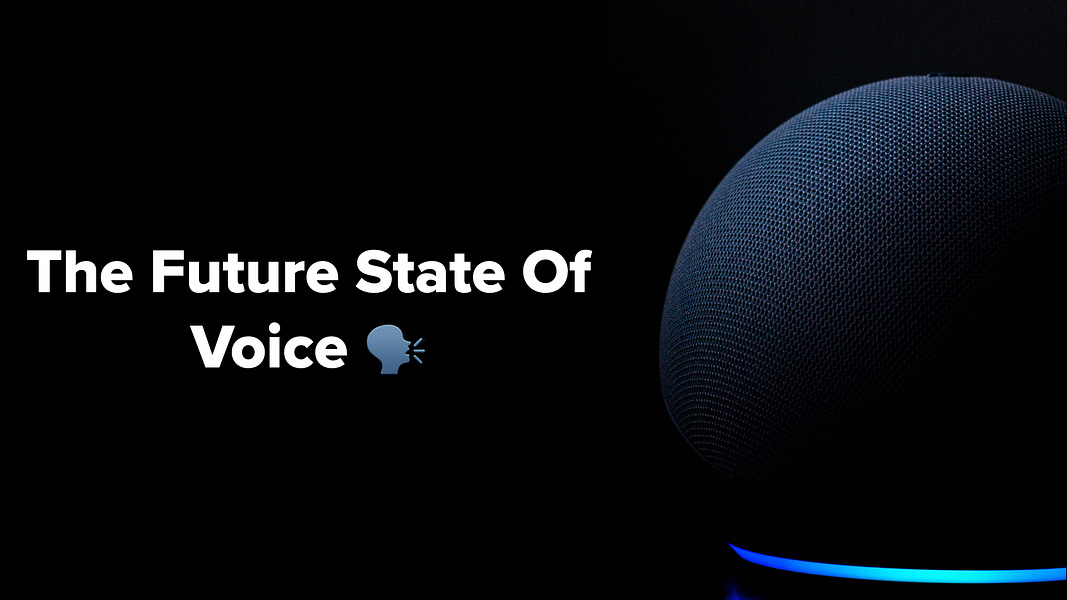 May 13, 2021 • 1HR 5M
The Future State Of Voice 🗣
Why voice is going to be vital in the future & why being "natural" is going to vital for adoption
The Future State Podcast - Modern business & future trends explored by Nick Walter (CEO of XR startup Voritc) & Danny Denhard (founder of company strategy and company culture consultancy www.focus.business and newsletter mustreads.co.uk).
The Future State Of Voice 🗣
Voice is so much more than most people realise. Ever wondered why we still rely on phone calls in 2021…humans speaking better than writing communication and instant chat.
The history of voice is so important, from talking to someone else to the radio, to the introduction of voice search, voice commands on smart speakers and then to podcasts and into the audio social movements like Clubhouse.
Voice in different formats has become a central player in communications and play, not just in work and in play but also importantly in gaming and why platforms like Slack and Discord are doubling down in 'voice features'.
So this week Nick and I discuss the important elements and questions to answer:
The future state of voice search - spoiler not positive

The future state of voice assistance

Why Amazon is likely in the best place

Why the history of voice is a key indicator of the future (review radio's history)

The problem with Clubhouse & copycats

The challenge we face with accents and why tech does too

Those Facebook & Instagram's sneaky ads 👀

Answers Adam's listener question: Will voice commerce actually be a thing?

Discord's primary position

🔥 The future state of voice hot takes 🔥
🤫 Keep an eye out for The Future State Of Slack Community invite, we will be sharing over the next couple of weeks.
---
Subscribe On Your Favourite Podcast App:
If you prefer to listen on your podcast player of choice:
Follow on Apple // Spotify // Google Podcast // Audible // Amazon Music // Deezer // Listen Notes // Mixcloud // PocketCasts // Simplecast // Breaker //
Or copy and paste this RSS into your podcast player.
---
The Future State Of Voice Timeline ⬇️
The full transcript is available here
00.05 - Danny's talks about his week & visiting the TikTok Italian Deli - Check Out On Instagram Reels

00.27 - Nick isn't looking forward to his office move & using a Boris Bike

04.26 - Danny sets up the podcast with a breakdown of "Voice"

The largest firms have tried voice and audio and some have cracked it to own enough of the market or in a share of wallet.

Podcasts are booming

🇬🇧 radio gets 20m + daily listener per day!

Microsoft $20b Nuance purchase

06.04 - Nick dives into natural language and IBM Watson & why early adopters are smart. Why there are two Alexa's in his home & why 7/10 success rate is good enough for his use case
Here's a good podcast on how Amazon develop Alexa

09.29 - Danny flirts the idea why accents are so hard for machines to understand

10.21 - Danny & Nick laugh about Danny being compared to Danny Dyer's accent (Danny Dyer on YouTube)

10.55 - Nick points out if humans struggle then computers will too

13.42 to 17.00 - Audio is disruptive especially with those who don't use headphones & why people need headphones and likely have to have AirPods or equivalent moving forward

17.08 - Danny is bearish on voice notes as too intrusive but says why all platforms have looked to WeChat and their approach & why the phone call is so important even in 2021 (humans speak better than they write on the whole).
Related Watch - Here is a good WeChat superapp video to watch

20.56 - Nick raves about Falcon and the winter soldier on Disney+ & tells it like it is with clubhouse and terrible audio experiences

25.49 - Danny's pet peeves people not wearing headphones in video meetings especially group meetings and recommending Next on Disney+ (Star Link) // Hulu Link

28.27 - Danny on why the radio was such an important weapon for the German's in world war 2 & the history of voice from speech to radio to podcasts to smart speakers and beyond

32.33 - Nick goes into decentralized & privacy concerns

34.01 - Danny knocks Nick on his phone and messaging etiquette

36.12 - Nick talks Discord, Gary Vee's Vee Friends (explainer) NFT's and why ETH is in a good place (video below) & the Gary Vee VeeFriends Discord channel link
40.28 - Nick talks about those Facebook & Instagram ads from speaking about it and then you're served an ad

42.29 - Danny tries to explain those ads are so hard & why leaks vs hacks are going to be so important

45.55 - Nick talks about the Jamie Redknapp leak and why it will be so hard to validate deep fakes on audio

48.49 - Danny talks about the TikTok Justin Bieber deepfake,

50.12 - Danny and Nick tackle Adam Garnsey question: (Nick suggests it has legs, Danny sides with Adam (see ⬇️ )
55.28 - Nick's the future state of voice (aka Hot Takes)

Formal vs informal voice notes

Natural language improvements for the workplace

Headphones and headsets going to be commonplace

TV & VR's blended future

60.06 - Danny's future state of voice

Voice being valuable in standup and workplace

Voice is so important in the Asynchronous / Hybrid future

Stories format being reused but with voice

"There's a lot of talkative people. What can actually happen is there'll be tools that will fade people in and out, especially in meetings. I think there'll be the interruption level is really important"

Voice becoming a first-class citizen (aka product) on Slack, Discord

Improved quality in audiobooks and getting interaction from the listener
Remember to help The Future State Podcast to grow to forward this email & copy and paste https://thefuturestatepodcast.substack.com/ on WhatsApp.
Thanks for reading and listening,
Danny Denhard & Nick Walter